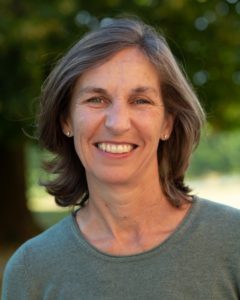 I discovered sophrology in 2000 thanks to a French sophrologist based in Richmond (UK). It helped me to cope with my busy life as a mother of three young children. Thanks to sophrology, I also became aware that, although I enjoyed being home looking after my children, I needed a professional activity as well. Not willing to go back to business, my original field, I decided to train as a sophrologist.
I studied in 2002-2004 at the Académie de Sophrologie Caycédienne de Paris with Dr Patrick-André Chéné and Dr Marie-Andrée Auquier. I then trained with Prof Alfonso Caycédo himself in Andorra for my Masters. I received my Master Specialist in Caycedian Sophrology diploma in 2005. I am a member of Sofrocay.
I started practising sophrology in London in 2004, introducing the technique in English in the UK. I worked with both adults and children, in one-to-one sessions or classes. I moved to Switzerland and settled in Pully in 2017.
I regularly attend further trainings and workshops on stress management, sophrology with children and teenagers, managing emotions, sophrology in a school setting, sophrology applied to eating disorders, giving birth with sophrology. I trained in Mindfulness as well (MBSR Level 1, Bangor University).
I regularly teach at the Sophro Academy (Ashford, UK)
I am available to share this wonderful technique to anyone interested.